More energy, less stress, better sleep, better sex
Introducing Juicy Lucy: the first adaptogenic drink in Europe, infused with Lion's mane & Reishi to boost focus, relieve stress and improve your overall well-being.
Regular price
Sale price
€40,00 EUR
Unit price
per
Sale
Sold out
*Consume Juicy Lucy daily
Benefits

‣ Boost your focus
‣ Improve overall well-being
‣ Relieve stress & anxiety
‣ Strengthen immunity
‣ Improve your sleep
‣ Better sex
‣ A satisfying substitute for alcohol
About the ingredients

We swear by real & clean nutrition, so our drinks have no artificial flavors, no refined sugars, and no preservatives.

The ingredients:

‣ Lemon
A powerful antioxidant
Boosts immunity


‣ Apple
Rich in fibers
Good for the heart


‣ Lime
Rejuvenates the skin
Fights infections


‣ Mint
Natural stimulant
Beats stress and depression


‣ Ginger
Eases muscle pains
Relieves stress


‣ Activated Charcoal
Reduces inflammation
Flushes out toxins


‣ Adaptogens (Reishi + Lion's Mane)
Improves energy levels and focus
Fights off stress, improves sleep and strengthens immunity

Nutrition Facts
Good to know

‣ Cold pressed & slow juiced
‣ Thé perfect substitute for alcohol
‣ Adaptogen infused (Reishi & Lion's mane)
‣ No artificial flavoring, coloring, preservatives or nasties
‣ Keep me cool (max 7°C)
‣ 250 ml of goodness
‣ To be consumed within 2 days after opening
‣ Treated with HPP
Shipping info

We ship out orders every Monday & Wednesday from our Juicy Lucy HQ in Belgium.
View full details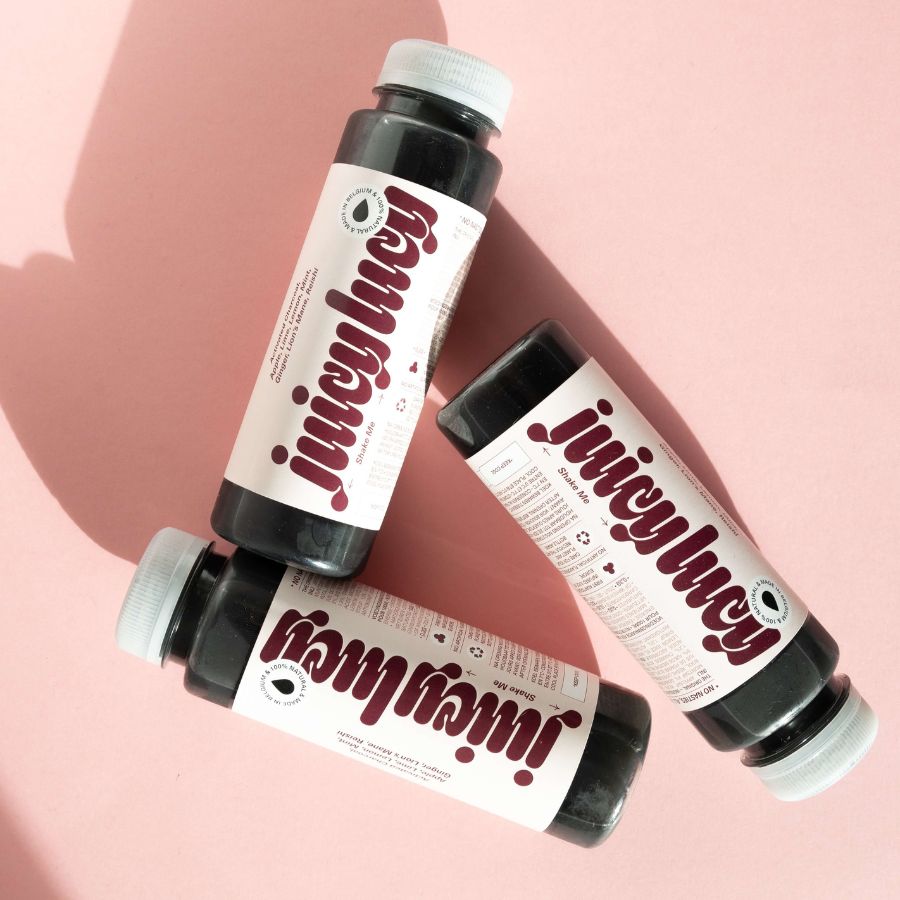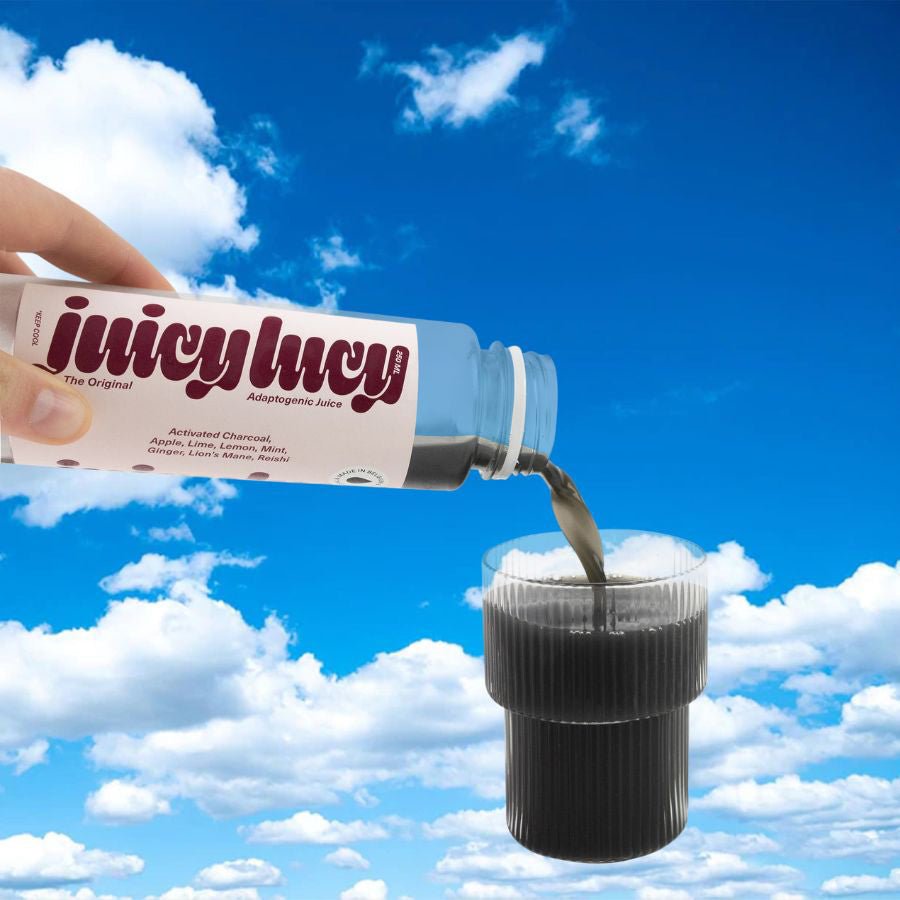 * Only clean ingredients:
Activated Charcoal, Apple, Lime, Lemon, Mint, Ginger, Lion's Mane, Reishi
Why Adaptogens?
Here are some of our favorite adaptogens and their benefits.

Reishi
‣ Strengthens immunity
‣ Relieves stress and anxiety
‣ Improves sleep

Lion's Mane
‣ Improves focus
‣ Helps with depression
‣ Reduces anxiety
Not our words, but yours!
"If you're a fan of (virgin) mojitos, you're going to love this flavor..Minty, sweet & refreshing with a zingy undertone, this new drink is definitely a crowd pleaser."
- Tine S.
"I absolutely love this flavor. Such a satisfying substitute for alcohol!"
- Nele R.
Questions? We've Got You Covered
Why is the drink black?

To achieve this color we used activated charcoal which helps get rid of toxins in your body.

A little fun fact: it's also known to cure hangovers.

We'd recommend having a Juicy Lucy on standby after a wild night out. ;)
Why do you add adaptogens?

Due to my first-hand experience with adaptogens, I was inspired to include them in our drink.

From gut-healing to boosting mental clarity to relaxation, adaptogens have so many natural benefits when consumed on a regular basis.

Visit our blog to learn more about the adaptogens we use and their benefits.
What is the shelf life of your drinks?

We use an innovative method to extend the shelf life of our drinks up to 40 days, without sacrificing the taste or nutritional value! :)

This method is called HPP (High Pressure Processing).

Our drinks have to be consumed within 2 days after opening.
What is the amount of adaptogens in each drink?

One drink includes the daily recommended adaptogen intake.
Adaptogen infused

Cold Pressed

Made in Belgium

100% Natural